Winter Cabin Rates
| | | | | | | | |
| --- | --- | --- | --- | --- | --- | --- | --- |
| 1 | Cabin | # of Bedrooms | Rate Based on | Max Occupancy | Per Person | Per Night Minimum | Deposit |
| 2 | Wolf Den | 5 | 1-8 People | 12 | $65 | $350 | $300 |
| 3 | Loon's Nest | 2 | 1-4 People | 4 | $65 | $150 | $100 |
| 4 | Agate | 2 | 1-4 People | 5 | $65 | $150 | $100 |
| 5 | Birch | 2 | 1-4 People | 5 | $65 | $150 | $100 |
| 6 | Balsam | 2 | 1-4 People | 7 | $65 | $150 | $100 |
| 7 | Black Bear | 3 | 1-5 People | 8 | $65 | $200 | $100 |
| 8 | Raccoon | 3 | 1-5 People | 8 | $65 | $200 | $100 |
| 9 | Whitetail | 2 | 1-5 People | 7 | $65 | $150 | $100 |
| 10 | North Star Loft | 3 | 1-6 People | 7 | $65 | $200 | $100 |
*Daily Extra Person Charge:  $65 per adult per day. $30 dollars per child (under age of 12) per day. Cabins do have minimum rates. 
**2 night / 2person minimum stay required on all winter reservations. With two night stays, a 50.00 dollars convenience fee will be added to each cabin.  
Wi-Fi available in all cabins.
7.375% Minnesota State & County Sales Tax is applicable.
Pet Policy:  No pets will be allowed during the winter ice fishing season in the cabins.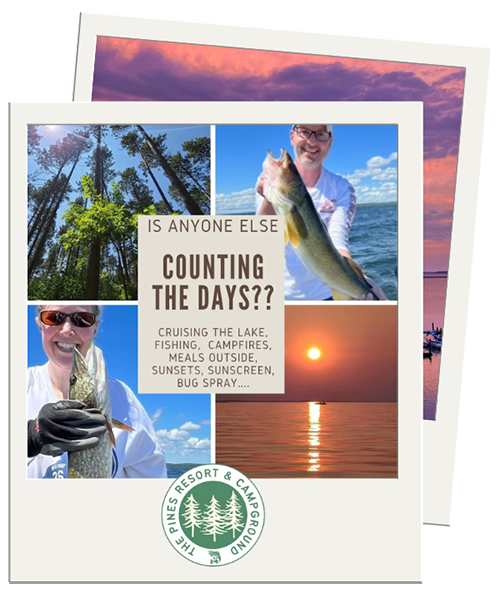 Lake Winnie Vacation
Reserve Yours Today!
17221 Winnie Dam Road NE • Deer River, MN 56636
800-342-1552 • 218-246-8546